Beverly Hills is iconic for its Hollywood stars and upscale lifestyle. This ritzy city also boasts some of the most luxurious outdoor dining patios in all of California. The perfect year-round California weather makes dining alfresco in Beverly Hills even more delightful.

From ornate terraces to whimsical balconies, eating outside is truly magical in this posh California city. Here is a complete guide to the hottest outdoor dining spots in quintessential Beverly Hills.
Il Cielo
Dine at one of the most romantic restaurants in Beverly Hills.
Il Cielo
, an upscale Italian restaurant, is an enchanting location for a date night or special occasion. Il Cielo translates to "the sky," and its outdoor patio perfectly captures the restaurant's name.
Il Cielo's outdoor gardens are peaceful and serene. The owners created the gardens to represent the countrysides of Italy and Pennsylvania, as this is where they both grew up. The Tuscan decor exudes a dreamy yet natural atmosphere with its lush greenery and elegant lighting.
The courtyard has an opening right above the dining tables. When you look up, you can see tall trees adorned in glowing lights. There is even an ornate chandelier hanging from the roof's opening. The patio walls have large arches and pillars decorated with flowers and ivy.
The beautiful courtyard isn't the only feature that impresses with its Italian charm. Il Cielo's menu boasts authentic Italian cuisine with a modern flair. Menu items include soups, antipasti, salad, risotto, pasta, fish, and meats. Try a classic burrata Pugliese salad, mushroom risotto, seafood pasta, or grilled sea bass. For dessert, delight in a rich tiramisu, affogato, or panna cotta.
Il Cielo also serves brunch, so diners can experience the dazzling patio on a sunny morning. If you are looking for a more intimate experience, the restaurant has a la carte romantic packages complete with rose petals, candles, and signature desserts. Because of its stunning courtyard, Il Cielo often hosts bridal showers, weddings, baby showers, and corporate or industry events.
When you dine at Il Cielo, you feel like you are in the middle of a fairy tale.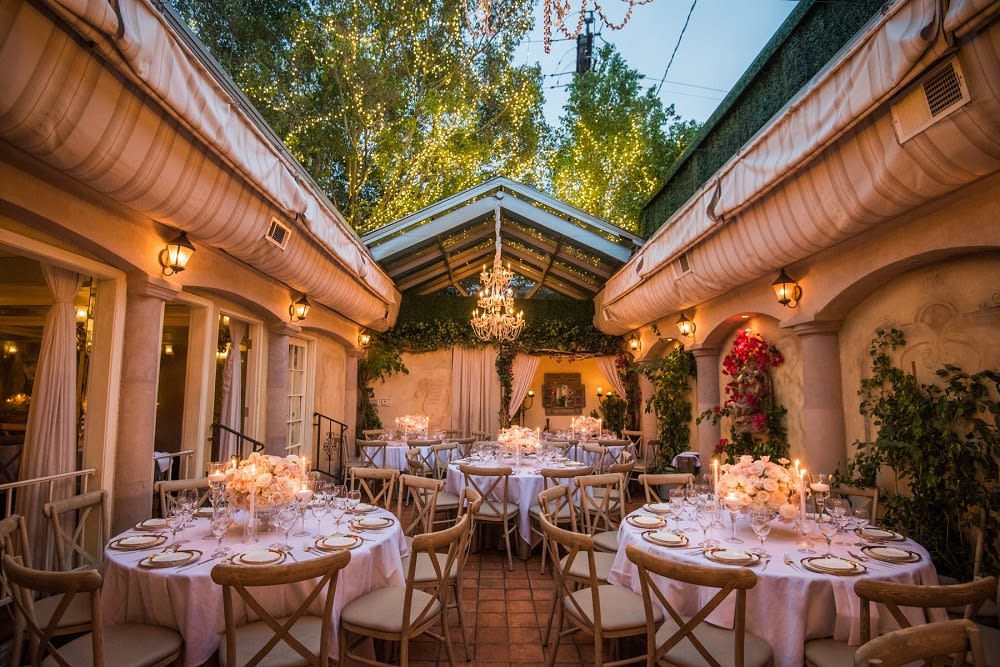 Photo courtesy of Il Cielo
The Terrace at The Maybourne Beverly Hills
Take in the California sunshine and flavors at
The Terrace at The Maybourne Beverly Hills
. Part of The Maybourne Beverly Hills, The Terrace is the hotel's outdoor restaurant. The Terrace has grand columns strung with delicate strands of lights. White parasols hang above tablecloth seating that is surrounded by a lovely garden with a cascading fountain. This open-air eatery brings California landscapes to the city while providing an amazing outlook of Beverly Hills.
The food at The Terrace is all about quality organic produce. Executive Chef Kaleo Adams uses seasonal California items so that every dish is simple yet full of flavor. Breakfast is sourced from local farmers markets, lunch items include wild-caught seafood and free-range meats, and dinner features fresh pasta and fish. Chef Adams's most popular dish is the Half Moon Bay crab and peaches plate, which has a balanced sweet and salty taste that is light yet juicy.
Bask in the clear blue California skies at The Terrace at The Maybourne Beverly Hills.

Photo courtesy of The Maybourne Beverly Hills
Avec Nous
Savor traditional French cuisine in a hip outdoor environment at
Avec Nous
. This Beverly Hills bistro takes influences from the Mediterranean coast and adds a contemporary touch.
Avec Nous is located in the quintessential Viceroy L'Ermitage Beverly Hills and has served as an elite hangout for glamorous stars. The upscale yet laid-back patio has comfortable couches and chairs in neutral colors. Surrounding the deck are large marbled accents and full illuminated trees. The atmosphere at Avec Nous gives off a chic Saint-Tropez vibe.
Whether you go for breakfast, lunch, or dinner, the food and drinks at Avec Nous are exquisite. For classic French fare try the steak frites, bouillabaisse, apple tart, or vanilla éclairs. Don't forget to order a cabernet sauvignon, pinot noir, or chardonnay, as the French are known for their excellent wines. Linger over a long meal with friends and family as you eat, drink, and be merry!
Imagine yourself dining in the French Riviera when you visit timeless Avec Nous.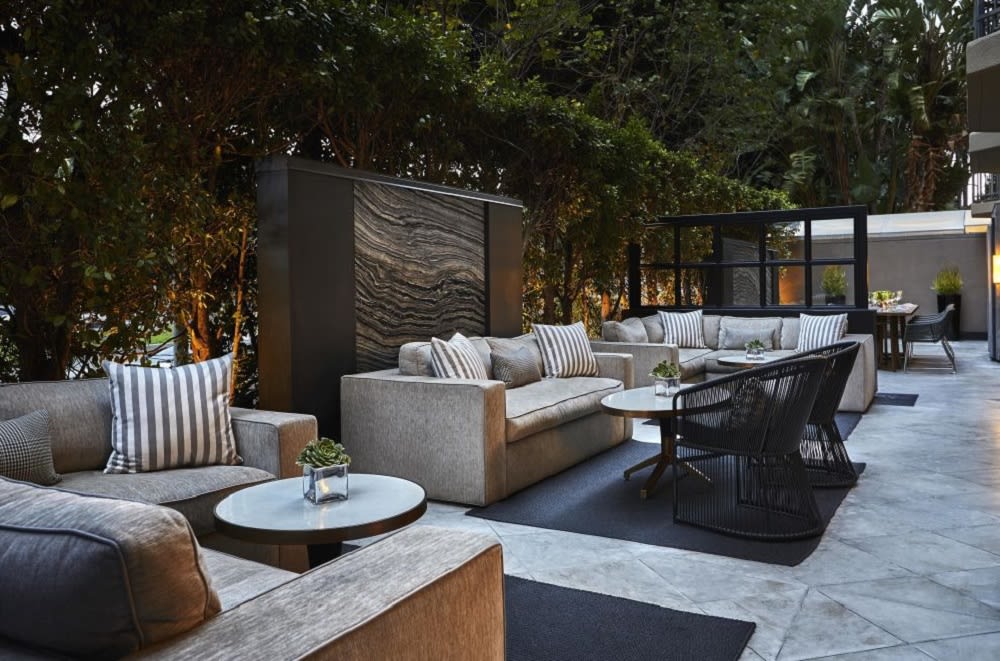 Photo courtesy of Avec Nous
Crescent Hotel Terrace Restaurant and Lounge
The Crescent Hotel's terrace restaurant and lounge
is a sleek villa that offers a boutique dining experience. Created in 1927, this outdoor setting is a historic art deco space with wonderful decor, scrumptious food, and friendly staff.
The terrace has decorative potted plants and winding ivy. Cozy seating can be found throughout, as well as stylish hanging lamps. The restaurant's warm space heaters make dining outside enjoyable on even the coldest days. For years, The Crescent Hotel Terrace Restaurant and Lounge has been a premier venue for weddings, baby showers, birthday celebrations, and industry mixers.
A buffet-style breakfast is served daily on the terrace with favorites such as avocado toast with harissa, and coconut milk and chia seed pudding. Beverages include custom-roasted coffee and espresso, tropical juices, and prosecco. If you're dining later in the day, there are snacks, salads, burgers, desserts, and shakes to choose from. The terrace bar also offers a unique selection of cocktails and draft beers.
You will feel right at home at The Crescent Hotel's casual yet intimate terrace restaurant and lounge.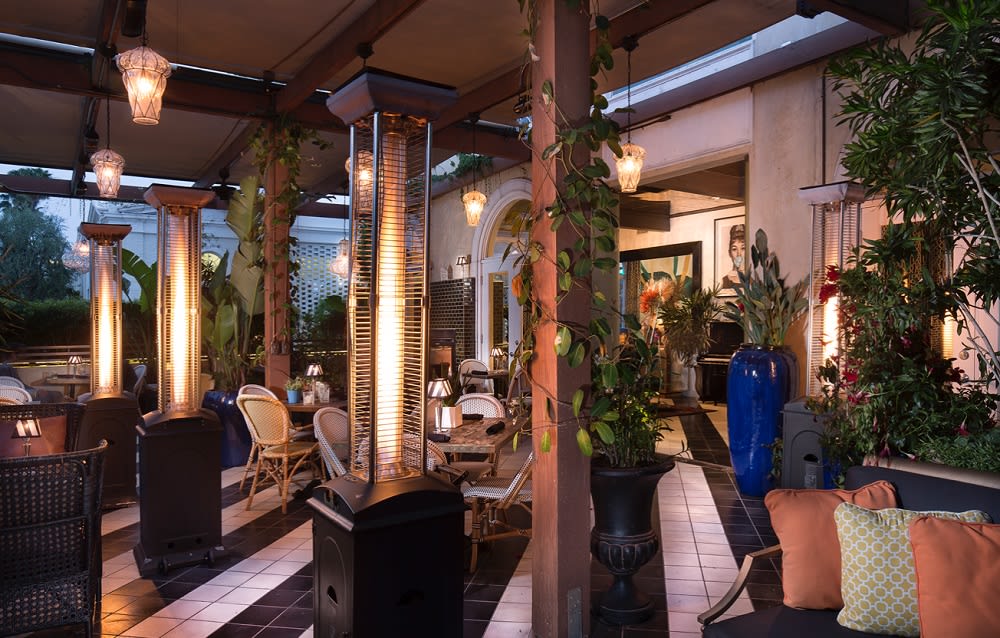 Photo Courtesy of The Crescent Hotel
Polo Lounge at The Beverly Hills Hotel
The iconic
Polo Lounge at The Beverly Hills Hotel
touts a botanical oasis right in the middle of Los Angeles. The patio at the Polo Lounge is one of the prettiest outdoor dining settings in all of Beverly Hills.
Make your way through magnificent pink arches to a patio furnished with dainty tables and chairs. An arrangement of spectacular palm trees and blooming flowers surround the dining area. Go for brunch and bask in the warm sun, or stay for dinner and admire the twinkling stars overhead.
The food served at the Polo Lounge is American cuisine with hints of Italian inspiration. The eatery is home to the McCarthy salad: grilled chicken, egg, beets, tomatoes, cheddar cheese, smoked bacon, and avocado atop romaine lettuce and dressed with balsamic vinaigrette. From breakfast and brunch items to lunch and dinner options, the menu at the Polo Lounge is sophisticated and delightful.
The tropical atmosphere at the Polo Lounge at The Beverly Hills Hotel has made it a prime outdoor dining spot in the city.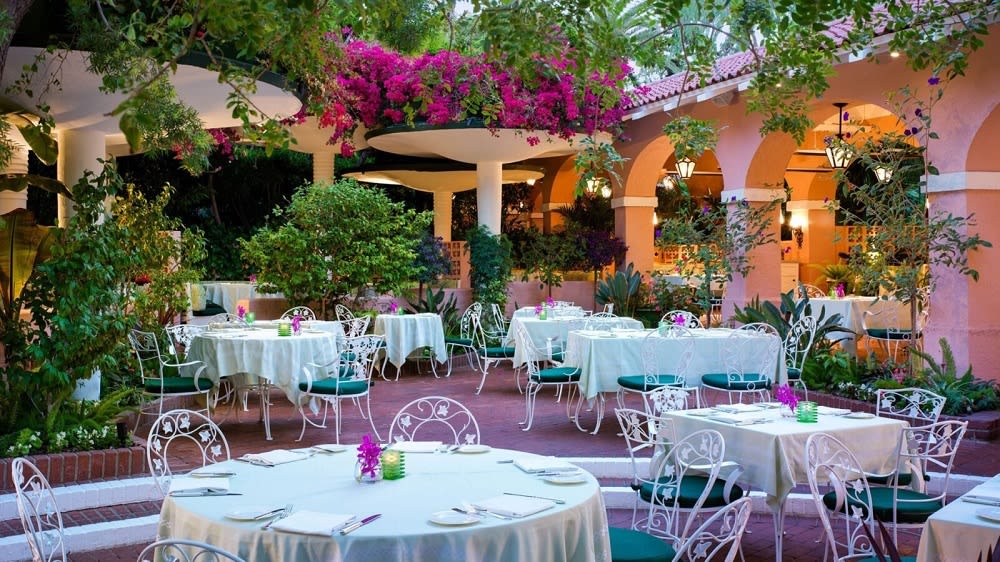 Photo courtesy of Polo Lounge at The Beverly Hills Hotel
Gucci Osteria
Dine in style at the luxurious
Gucci Osteria
. This modern Italian eatery has a terrace that will make you feel at one with nature.
Creativity is the theme of Gucci Osteria's outdoor dining area. The open glass windows fill the terrace with light, while the potted plants and bamboo chairs add to that natural mood. The floors are covered in Italian mosaic tiles, and a wooden antique pulpit acts as the restaurant's outdoor bar.

Run by Italian-born Chef Mattia Agazzi, the food at Gucci Osteria is culinary art. From land to sea, each dish is imbued with an array of rich flavors. Many of the menu items have fun, catchy names as well. On the restaurant's a la carte menu, you can order items like Spring is Coming, which is a mix of white asparagus, burrata, buckwheat, and seaweed, or Cool Vibes, which is a pistachio gelato topped with lime, mint, and sake. Gucci Osteria's tasting menu is either a five- or seven-course meal featuring Chef Agazzi's most popular dishes. You can even add a wine pairing to either of these courses for a full experience.

Gucci Osteria offers exclusive cooking classes with Chef Agazzi as well. Learn secret cooking tips from a renowned kitchen expert. From new techniques to contemporary interpretations, you will discover all there is to know about Italian cuisine.

At Gucci Osteria, your alfresco meal is sure to be one of a kind.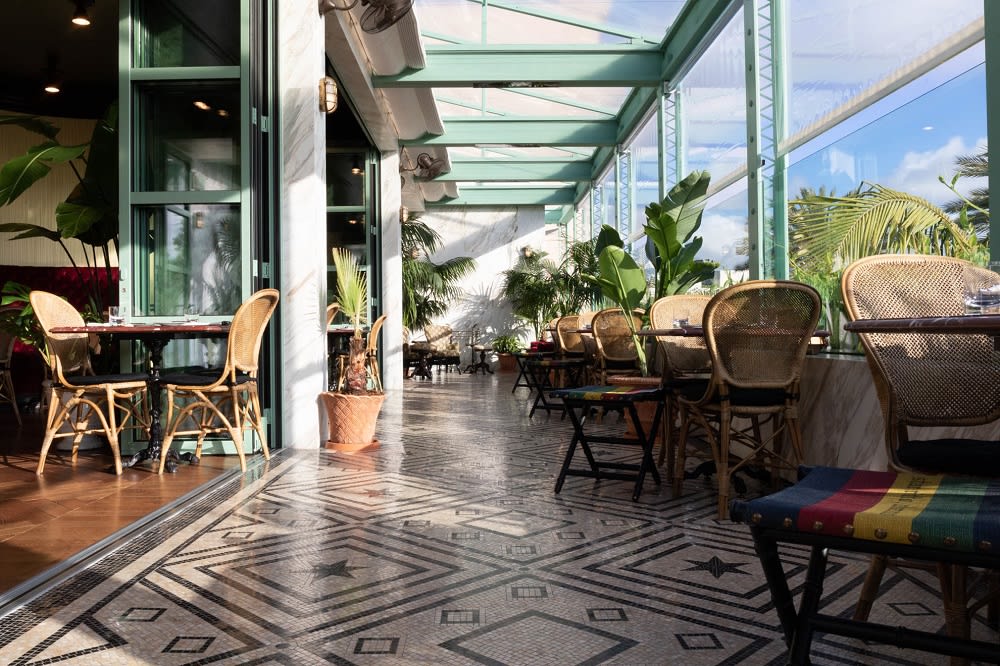 Photo courtesy of Gucci Osteria
Beverly Hills real estate
If you are longing for a luxurious home in iconic Beverly Hills, contact
Rochelle Maize
. Rochelle is one of the top-producing LA real estate agents who specializes in multimillion-dollar homes. Discover the next level of Beverly Hills luxury real estate by collaborating with Rochelle Maize.